Early signs you may be a lift mechanic:
I had the first pair of twin tips out– Solomon 1080's. However, before I had the money to buy twin tips, I used to heat up the tails of my regular pair of straight skis with a blowtorch and bend them up so I could ski backward.
I'm Casey Jovani, originally from Lake Geneva Wisconsin, the middle brother of three, a skier, a lift mechanic and lift builder.
Grand Geneva Ski Resort is in Lake Geneva. Interesting trivia is that it was formerly one of the Playboy mansions of the 60's. There is still a pond in the golf course shaped like the trademark bunny.
In 2004, I decided to take my fifty-dollar savings and buy a bus ticket to Big Sky, Montana. I had a childhood friend who moved there the year before; he always talked about the West, the big mountain skiing, that I could get a ski job and blah, blah, blah. Going to Big Sky was probably one of the best decisions I ever made for my future career as a lift mechanic. Back in Wisconsin, two things you'd find me doing were tearing apart cars out of a dirt floor garage and wanting to be skiing. Some days it was easier to work outside than inside that garage, so working in cold conditions came on pretty early.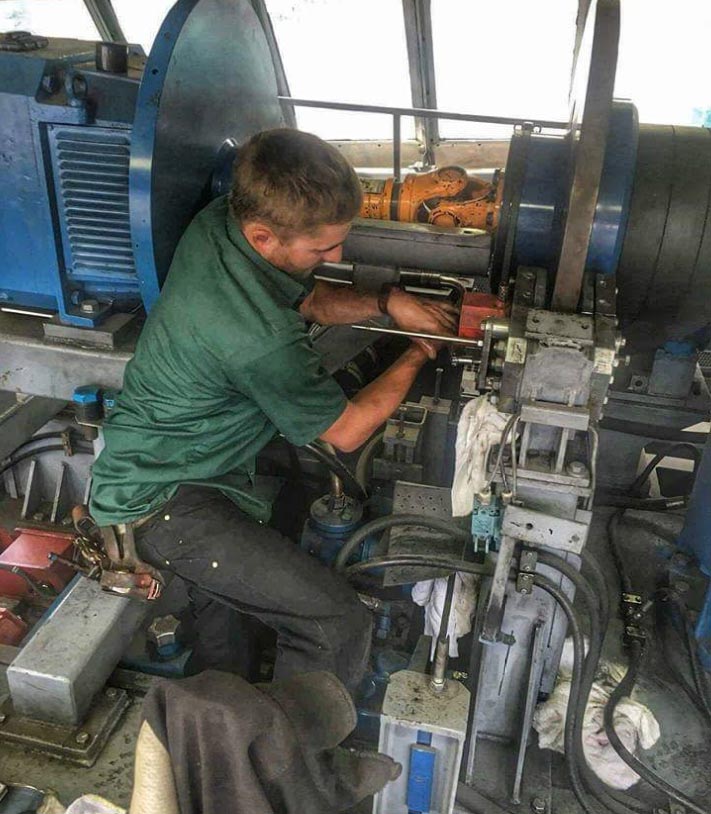 Chair 6 at Kirkwood
Looking back, I was trying to put one and two together – I like working on mechanical stuff, and I love skiing, so maybe working at a ski resort was the answer.
Growing up, I never had a father figure, it's always been my mother, Donna Jovani, playing double duty. She has always been supportive of me, as long as what I was searching to do made sense. Back in the day, she was a skier herself, wearing neon onesie ski suits. She is the one who drove me to the Greyhound bus station to get to Big Sky.
For the first two months out in Montana, I forgot to call her. She contacted the resort, going through all the departments asking my name, trying to figure which department I was working. Next thing, I had HR calling me saying – hey, you should call your mom…
Panorama Gondola, Big Sky, MT
At Big Sky, I was a gondola operator, so early on I got to tinker around with the lift mechanics even though I was in operations. However, that's not really where the light bulb went off. When Big Sky was closing up, some skiers went through the lift line were bragging how Mammoth got sixty feet of snow that year, so a couple of guys and I decided to go. After we arrived and while my friends went skiing, I got the idea to go to Human Resources. I had been on the road ski bumming it for a while, so the people in HR suggested that maybe I should shave, shower, and get a haircut before I interview.
I cleaned up and came back the next day and spoke with Alistair Gregg, Director of Gondola Operations. In the interview, all we talked about was park skiing. He hired me on the spot, gave me housing, gave me my employee pass, and I became a year round lift operator for the Panorama Gondola. I worked for a couple winter and summer seasons and then was offered my first opportunity to work in lift maintenance. I was very excited about the opportunity.

New installation, Alameda Fairgrounds, CA
Alistair Gregg was one of my first mentors. He's probably going on 35 years at the resort and I learned so much from that gentleman. Mike Wilson, a Lift Maintenance Supervisor, also looked after me and taught me so much during my time there.
As with most dedicated lift mechanics, I believe Alistair saw in me a passion for the mountain. I loved to be on it, even during my days off. There are many places that mechanics can work, but none offer the mountain lifestyle that lift maintenance offers. I believe most good lift mechanics hope that there might be a career in this break from the regular world. It's difficult to leave the outdoors environment as we find many of these workers ten or twenty years later still on the job.
A day off with Kari, Santa Cruz, CA
After Mammoth and an opportunity to work at the Canyons for some years, I met my girlfriend, Kari. We shared the same aspiration to move to Tahoe. I was hired on at Heavenly but back in lift operations until I could get into the mechanic's department. At the end of the season, I found out Vail just bought Kirkwood and hiring lift mechanics. I had an interview with Jason Fontenot who was the director and offered me a position.
Funny detail: it's about a 45-minute drive from where Kari and I live to Kirkwood Resort. As there were no employee shuttles, I was asking around – is anyone carpooling? I managed to ride with Jason, but it required riding my bike five miles every morning to meet him. It was pretty cold at 5:30 in the morning and many times I rode in the rain. I stuck it out, eventually bought a truck, and worked there for five and a half years.
Every chairlift is primarily the same mechanically, while in other ways entirely different. Mechanics that have various resorts in their resumes offer valuable know-how working with many lift types and manufacturers.

A hike from my back yard in Meyers, CA
I also believe that most mechanics recognize excellent opportunities, even if they have to wait it out to prove themselves. My case at Kirkwood, for example: I was hired on as a Level 1 although I was an experienced Level 2. Six months later, I obtained Level 2 status. By the time I left this past January, I was a Senior Level 3, which is the highest possible ranking. It was worthwhile to wait for availability, to work at Kirkwood.
During my last years there, I met Kirk Doering, one of my most exceptional mentors. He was the state tram board inspector for the state of California for twenty-one years. Kirk built Yan lifts back in the 80's and was entering retirement, but he took on a lift installation job for China Peak. We shipped an old Yan from Steamboat, CO, to a shop in Carson City, NV, owned by Gary Burch, who is another legendary name in the industry. In this facility, we completely dismantled and re-engineered this Yan.
I was working seven days a week, five at Kirkwood and two days dedicated to rebuilding this lift.
I have to give a big thank you to both Kirkwood and Jason Fontenot because he knew this was my career goal. He allowed me the time away to install this lift and also do some splice work with Taz and Jason at Above & Beyond while year-round at Kirkwood. I have been maintaining lifts for fourteen years, but this time it was pretty special to attend all the meetings before we broke ground through the load test. Jason is the kind of leader that if he sees you with an opportunity to advance your career doing something you love, he's all for it, full support, even if he's going to lose a good employee.
Conversion from the resort to the manufacturer side:
A couple of years ago we had an issue at Kirkwood where a few weeks we had a huge tree fall on the line. My director called the manufacturer to tell them we needed them here as we have a problem.
At that moment I said to myself, hey, wait a second. I could do this. I want my phone to be the one to ring. I want to be the one to go to resorts and fix these problems. After a few job offers, I decided to work for Skytrac for it's American ingenuity and work culture.
The Liftmaintenance1 Facebook page:
I hope other mechanics get as much information and experience-sharing as I do from the Liftmaintenance1 posts.
When I started with Facebook years ago, I would type in the search bar "lift maintenance" to see what would pop up so I could join. For years I never found anything. So I started the page with the intention of creating a place where mechanics and others in the industry could share information.
Like me, others must have been searching for a lift maintenance page and found "liftmaintenance1". The hits came flooding in. Its way more meaningful and fun than I ever thought it would be. I've learned so much from it.
The page works well for many reasons. It has various contributors, it's not affiliated with any resort or manufacturer, and it's a project accomplished during free time.

China Peak, re-engineered Yan installation