Professional Engineer and life skier on today's ski lift culture, lift projects, and his take on differing ANSI Standard interpretations.
"The mid-eighties was my ten-year career mark in civil, structural, ski lift and tramway engineering — the engineering I loved the most. At this point in time, I decided to venture out on my own and start Stevens Engineering. I'm a New Englander and the 80's was also a time when chairlifts were becoming prevalent at Waterville Valley, Loon Mountain, and other expanding resorts.
"Technology for ski lifts has advanced light years since then. But design processes for lifts has also evolved to lessen mechanical failures as well. During those mid-eighties, we were mostly concerned about equipment failures resulting in accidents and affecting public safety. If a serious malfunction occurred, the news would catch national attention. Design engineers like myself would try to mitigate those types of occurrences from ever happening again. As the adage says 'there is no better teacher than experience.'
"I had done a lot of lift inspecting, modifications, and upgrade projects and was hired by major manufacturers in various states. I also was designing lifts on my own. Those were the Jan[Leonard] days with CTEC. Jan and I worked together a lot. He was like a brother to me and we spent years on the ANSI B77 Committee as I started attending in 1978. There were fewer people at the sessions back then. Being involved, all the members got to travel to great places and associate with the most prominent engineers and industry experts. I learned things I wouldn't have otherwise. I'll emphasize that being involved with the ANSI B77 Committee was a tremendous influence on my career.
"Throughout the years, the committee has formulated new additions and major revisions to the ANSI Standards. These advances have helped to improve safety by developing better inspections and testing methods for new and existing lifts as well as advancing standards for the design, operation and maintenance of passenger ropeways. Much attention has been given to lift component design. Even lift evacuation processes have improved through the committee's efforts. The result is, there has been more job creation like NDT specialists, wire rope inspecting, and risk management positions to name a few. I also believe throughout these years that some of the best lift mechanics and professionals remain in this industry because of their fundamental love for and commitment to winter sports."
Differing ANSI Standard Interpretations:
When asked my thoughts on industry participants developing their individual interpretations of the ANSI Standard guidelines, I believe it happens for two different reasons:
Reason 1
"Industry participants may not always have an awareness or good understanding of a particular guidelines in the Standard, so they use their perceptions to carry out their projects to the best of their ability."
Solution: "Their best resource is to reach out to people who are on the ANSI Committee or familiar with the use of the ANSI Standard. I'm available to help, and there are others who can point someone in the right direction about guidelines in the Standard or refer them in their area of question (i.e.) electrical, hydraulics, etc."
Reason 2
"Others who may use their individual interpretations are industry professionals involved with the committee. These are forward thinking people who are trying to improve upon the Standard and would like to have other members accept their ideas for improved standards."
Solution: "Instead of using a personal judgment, even if highly experienced, there is a traditional system of approving changes by collaboration within the ANSI subcommittees or ad-hoc's that lead to a final consensus vote by the entire committee. It is a process of education with any new proposal because of the variety of disciplines within wide categories of Committee membership, including manufacturers, independent specialists, employee, government, allied industry, etc."
New projects on the table: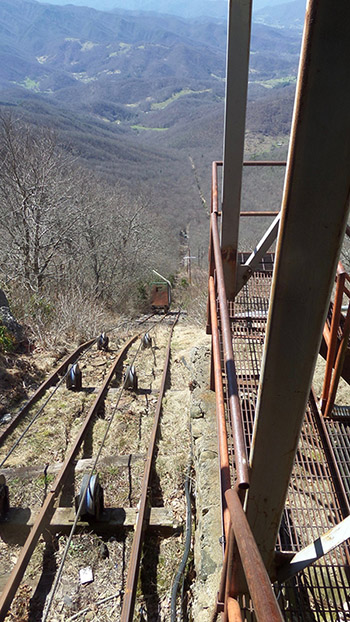 "I always like projects that challenge me technically and I am fortunate to be involved currently with two funicular projects. One of the projects in Mt Pisgah, NC I'm redesigning from the ground up. It's a 60-year-old mountain tram installation that has been shut down by the state. It needs to be substantially reengineered and reconstructed to current ANSI standards. It is a service tramway – no passengers other than infrequently transporting technicians and equipment to the television and utility transmitting stations at the summit.
"The process of planning and initiating the upgrade began about a year ago. One of the first steps was the tram needed to be usable and safe for the purpose of getting materials to the top for necessary immediate repairs. The cars are small and hold about 3000 pounds of weight. After repairs, the tram will be suitable to transport a select number of maintenance people up the mountain to install additional safety systems. Then this tram will be used to construct the new funicular. We will replace the track and machinery in the top station and a new drive at bottom station. The project is on forest service land and needs appropriate permitting. We're at least a year out to completion.
"Another type of project I enjoy is working with the non-profit ski areas. Many of these are coming back into existence after the original skiways lay dormant for decades. These organizations bring the sport of skiing and boarding back to the community at a low cost."
"Stevens Engineering designed a new rope tow for Mt. Eustis in Littleton, NH, and the volunteers built it. The area was able to open in 2015-16 season. We did the same for Ascutney Outdoors who operates the tow rope at Mt Ascutney, VT. They also installed their rope tow with volunteers. The Ascutney land trust agreement was of national magnitude. They offer free skiing to the community. As they climb their way to success, they have high aspirations of installing an additional lift in the future."
"It gives me a tremendous amount of fulfillment working with these organizations because I believe they appreciate qualified services and their new equipment as much as, or maybe even more than for-profit resorts. Watching people ski at these places and having new growth to the industry is a personal reward."
Ross A. Stevens, PE
STEVENS ENGINEERING
PO Box 1945
New London, NH 03257
Tel. 603-526-2493
Mobile 603-491-3959
Email: stevenseng@comcast.net
Website: stevens-engineering.com