Doug is a Skier.
At the completion of the ASC B77.1 Committee meeting held in Nashville,TN, Doug Allen, VP of Mountain Operations at Steamboat Resort and LeRoy Shultz, past Chairman of the B77, received the Jan W. Leonard Award. This inaugural award is given annually "for exceptional contribution to the B77 American Standards Committee."
The first standards were written in the 1960's to set the bar for maintenance programs, training, and lift operations. "But back then at Copper Mountain," Doug said, "we had one-to-two lifts being installed per year! Chuck Lewis [the founder of Copper Mountain resort] said to us on the crew with a finger shake, you guys have to learn to operate these lifts safely. I took that challenge to heart – to have our chairlifts operate as a safe level of transportation. In the ski industry, we all live and work in a highly regulated environment. It's really exciting and important that we participate in that environment. I had found my niche in lift equipment in the 70's and 80's. There was a lot going on. It was an exciting time."
How have the standards changed in your 25+ years?
"It has changed in the way the standards work. It was very reactionary in the beginning. When something went wrong, we wrote new rules so it didn't happen again. The focus is now a pro-active movement."
What is the most difficult thing for a lift mechanic to learn or accomplish today?
"To develop a good eye before something goes wrong. Lifts are the cornerstone of the industry. It is said: you're not buying a ski ticket, you're buying a lift ticket.
"My affinity for lifts started in 1973. I wanted to move West to the mountains. I was working in a ski shop adjusting bindings and looking out the window saying, what am I doing in here when I can be out there? In 1974, I started in lift operations and worked every position. I was offered an opportunity at Steamboat and my new position allowed me to move the resort from fixed grips to detachables. I have experience with a lot of the early detachables."
"It was good working with some of the early pioneers of the industry… Jan Leonard (CTEC, Garventa, Skytrac Lifts), Dick Kasel (USFS Engineer, CO Tramway Board), Chuck Lewis (founder Copper Mountain Resort).
"And I served some of our dinner the other evening in my new crystal trophy bowl. Many thanks to the Committee for the honor of receiving this award."
2016 ANSI B77.1 Committee at work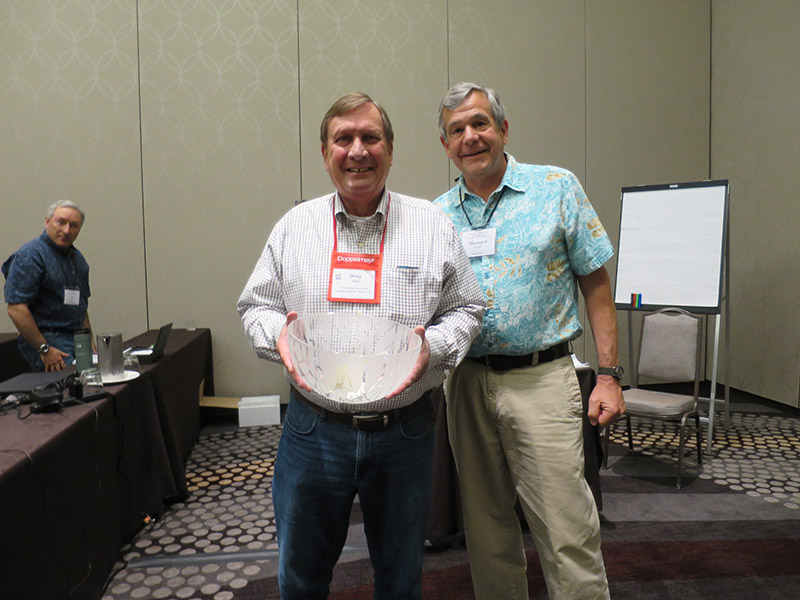 Doug Allen with Maynard Russell