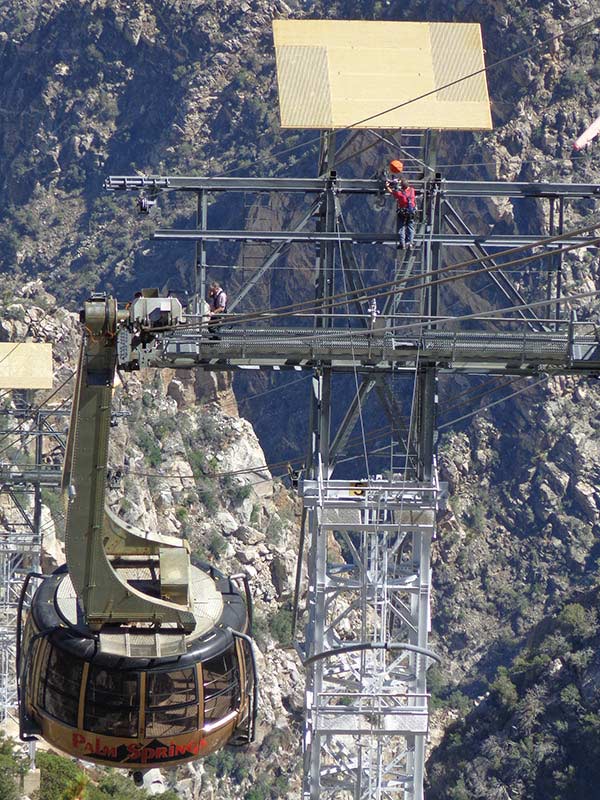 Nicholas is a snowboarder.
When comparing any climate that has chairlifts, maintaining a tramway in a desert area doesn't have as many differences as you would anticipate. When talking about the lifts in Southern California, our hot weather here is equal to the snow and cold of somewhere else. It's all relative.
Most of us who have chairlifts during extremely cold temps know to keep the heaters functioning on auxiliary motors, brake systems and to keep the overall motor-room ambiance warm enough. Considering the location of our motor-room of the Palm Springs Tram in the desert valley, we swap those heaters out for air-conditioners.
Uniquely enough, the Palm Springs top terminal is typically 45 degrees cooler than the valley terminal. It's up there, at 10,804 feet, that the same ice and cold weather issues apply but without the extreme rime ice of the Northwest or the freezing rain of the Northeast.
Our tram is a Garaventa originally built in 1963. In 2000, Garaventa rebuilt it with bigger rotating cabins in addition to new drives and tower heads, so my perspective is on maintaining a 16-year-old tram. While I might be envious of the control systems and newer features of the Roosevelt Island and Portland trams, I have essentially moved out of an old small "fixer-upper" home and into a brand new fancy multi-million dollar mansion.
When asked about tramway maintenance issues, I will have a similar answer – that it is all relative in our industry. While I have had plenty of days on icy detachable chairlift towers removing rime ice and prying haul ropes back onto sheave assemblies, at least ski area chairlifts, other than gondolas, don't have door issues. For example, back at the tram, we recently had a loading dock door challenge caused by a moth that warmed itself overnight by sleeping on a door sensor. The next day, this sensor prevented the doors from functioning and that prohibits the whole tram from running. While that seems to be silly on one hand, on the other I had an equally odd experience years ago back East at Okemo Mountain, Vermont. The first day on the job I was handed an outdoor winter uniform and a solid heavy metal bar regularly issued as a lift operator tool. At this time, I was ignorant to lift issues and immediately thought it was a prank. Nineteen years later, I understand how often and how incredibly thick the clear ice can cover a chairlift bail in that region.
Another example, with respect to regions, would be of working in Central Washington State. In this high desert, we knew that annual line sheave greasing had required no more than three full pumps (to feel bearing cavity pressure) of a large, manually operated grease pump bucket (as long as the hub was center-punched for seal retention). However, maintaining the exact same lift in the western Cascades required however many pumps it took to remove all of the water from the sheave bearing's cavity. So again, it's all relative. These differences, I feel, only makes our industry even more interesting.
Some stats and facts on the Palm Springs Tramway:
We have 13 mechanics employed, but that includes all areas of responsibility: four lodge facilities, three wastewater treatment systems, restaurant equipment, high voltage power lines accessed only by helicopter, and many other vehicle, fabrication, carpentry, or jack-of-all-trades responsibilities. The Tramway runs about 350 days a year; 3,061 hours, 17,653 trips.
A few of my thoughts on the potential of more urban tram installations:
If trams will benefit major cities half as much as Roosevelt Island's 2.5 million annual commuters or Portland's 2.1 million hospital tramway commuters, then these installations cannot happen soon enough. On the other side of the coin, I would imagine that major cities would have an easier time recruiting trained maintenance personnel versus smaller ski resort towns with a smaller economy – as long as the pay was high enough to support living in the urban area. I bet that, similar to ski industry professionals, it would be a personal decision to become an urban mechanic, based on whether it was closer to relatives or parents, a resume builder, a unique opportunity, a change in economy or lifestyle. Again, with this issue especially when you factor in the very different lifestyles, it's all relative.
Nicholas Clesceri is the Vice President of Maintenance for the Palm Springs Tramway and ASNT Level II Inspector, Mechanical and Electrical technician with NJC Advisers, LLC.
Nicholas can be reached at:
NJC Advisers, LLC
Beaumont, CA
O 760-969-4373
C 760-668-6064
njc@njcadvisers.com