Many of us who work around ropeways use Lift Blog's database when we need a lift's history or technical details.
The blog's compilation of ropeway-specific news, images, and announcements cover every aspect of lifts. It reads so wholly and interestingly, old-schoolers liken it to a ropeway history book that you want to keep flipping pages from beginning to end.
The founder behind this extensive research is Peter Landsman. He has been curating lift data for over a decade, though he is a young millennial. And believe this… as a hobby – lucky for us. He is a lift operations supervisor at "Big Red," the Jackson Hole Tram.
"SkiLifts.org started in around 2002 out of Seattle, Washington and I was the second member after the guy who founded it.
I don't even think blogs were invented at that point.The site was more of a forum in a message-board format. I was just a kid when I joined and it was cool because people didn't know I was 13 or 14 years old.The forum was anonymous as everyone used a screen name. I didn't participate much in my high school and college years, but I still had this huge interest in lifts. During those years, I traveled to see lifts, take pictures, and ski as much as I could.
After I graduated from college and was working at Jackson Hole, I saw an opportunity to open a new site developed with a long-form format, with more researched content. I read a lot of blogs and modeled Lift Blog after tech blogs that cover Apple's current developments."
Tram crew at the Jackson Hole Tram
"On these sites, everything that Apple does is talked about in great detail so that the readers have a better understanding. I duplicated this effort so that Lift Blog contains more facts and analysis rather than snippets of unverified information from many people. Some people blog and lots of people comment and that led me to forward to think, well, lots of people ski, lots of people work on and around lifts. I thought there should be a place where people could read about what's going on and then if they do want to comment on a post, it would be useful information to others.
When I was in 4th grade, I started working on an Excel spreadsheet of all the lifts I could find. My list started in my home state of Washington and continued from there over the years. I kept the record up for my interests until 2015 when I began Lift Blog. By then I had compiled every lift in North America, so I had a perfect foundation of data to work off of for continuous updating. Every lift, including their stats for the U.S. and Canada, is on the back end of my research, but I don't put any lift stats up on the blog until the data is as accurate as possible and I take pictures."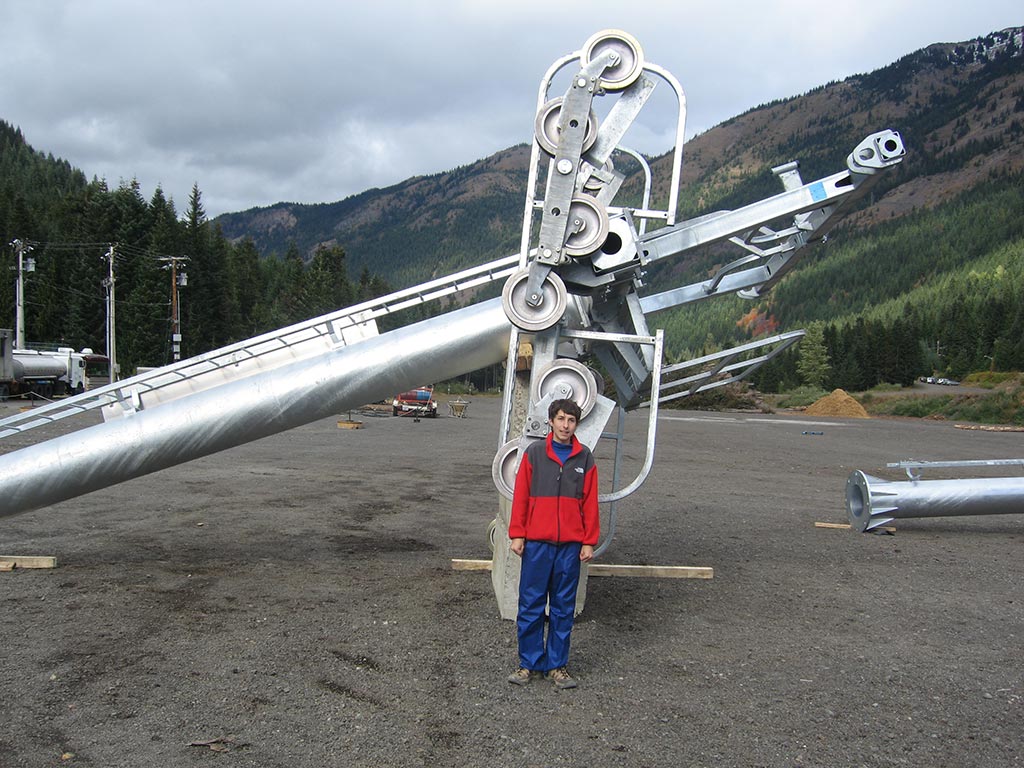 Crystal Mountain 2007
"Unlike new installations, it's more difficult to get information together on lifts that are moved or are modified. A lift can relocate anywhere from New England to Alaska. I look back in my spreadsheet and can sort by all the lifts that have been removed by manufacturer and type, and then go back and look at pictures and figure out what the original lift was. I find it surprising every year when lifts that are relatively new get scrapped and lifts that are older end up somewhere else. But I think it comes down to what kind of lift is needed, when one becomes available, and who knows about it.
2018 is an exciting year for installations, and next year will be interesting too with how the economy is looking and all the resort consolidation. These developments are resulting in a lot of new lifts.
My twin Sam and myself on the old Challenger lift at Big Sky Resort. Sam co-writes a website called Slowboat about powerboating in the Pacific Northwest.
Blog readership is still going up. In an average month, there are around 40,000 unique visitors to Lift Blog and about 200,000 page views.
When I travel, I choose where I'm going on vacation by what lifts can I see. This fall I have a cousin who's getting married in Cooperstown, New York and there is a new lift going in at Hunter Mountain and a new lift at Windham, so why not go check them out? I can go to the wedding and also see some cool new lifts.
I've been asked if chairlifts didn't exist, what would I be doing instead? I'll admit I was pretty interested in trains growing up, but trains don't tend to be in as cool of places as ski lifts. I love working at Jackson Hole and visiting other mountains."