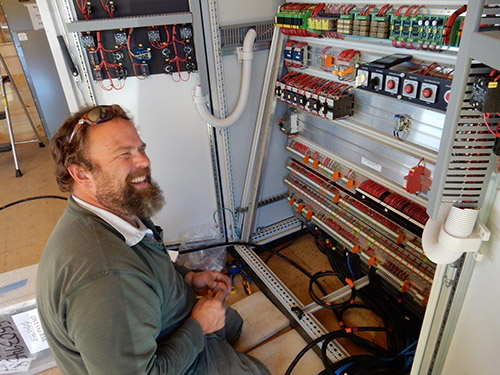 "Invest in training" is how Andy Pierce gets cracking with me. "Learn how the whole lift operates.   It happens all the time.. the lift stops and the lift mechanics say it's an electrical problem and the electricians say the opposite. Very few resort professionals have a grip on this.  Take for example Tim Smith [GM at Waterville Valley]. I can talk with Tim over the phone and usually within a short amount of time we trouble-shoot the problem – right on that same phone call.  Tim has a depth of knowledge but it's really his open approach helps us solve the issue.  More training results in better conversations, better preparedness and quicker fix-times".
When asked about his background, Andy shares his start in Park City as a lift operator and then as an installer for Yanek Kunczynski.
But he believes his lift life established itself vacationing in ski towns like Durango, CO where his dad, an IBM executive planned annual family ski trips.  Andy skied for his first time as a toddler at Taos.The Pierce family moved about every two years.  Traveling as a working lifestyle has always been a passion, not a problem for Andy.  "I'm a chairlift technician.  I take on mechanics, hydraulics, electrical and do NDT inspections and load testing.  I prefer ropeway projects to any other"  
It's simple to see on AP Electrical Services, LLC Facebook page you see this is true.  And as well as continental U.S., you can also see St. Lucia and Jamaica among the selfies of native clients, happily holding  up AP Electrical business cards.
"I worked installing lifts for Jan Leonard when Jan was with Garaventa CTEC but my mentors over the years were John Schilly – that Schilly man.. he taught me so much but I have to credit Shane Gurule and Michael Carhart too. 
"Though I worked for Doppelmayr until 2013, cognitively I've been on my own since 2007 when I wired a lift for Dave [Metivier] and Jan [Leonard] at Bristol Mountain during a vacation break. I never looked back." 
When asked what is the essential reason why resorts hire Andy Pierce? Andy laughs. "I'd say – I care more for less.  But my work ethic is the  reason. I don't stop for lunches or breaks.  I get tunnel vision when I'm working.  I also take on way more work than the average human.  In this industry, it's all about relationships.  I consider my customers as friends.  I answer the phone on the weekend." 
Andy works in partnership with Skytrac Lifts, Inc. We will vouch that he or his wonderful bride Meghan answer the phone on weekends.
AP Electrical Services, LLC 802-236-7416
email: apelectric07@gmail.com. Find us on FB